The campus ticketing solution built to pass every test
Make your college or university ticketing work better with AudienceView Campus (formerly UniversityTickets), the only complete ticketing and fundraising solution built exclusively for the higher education market.
Book a demo

→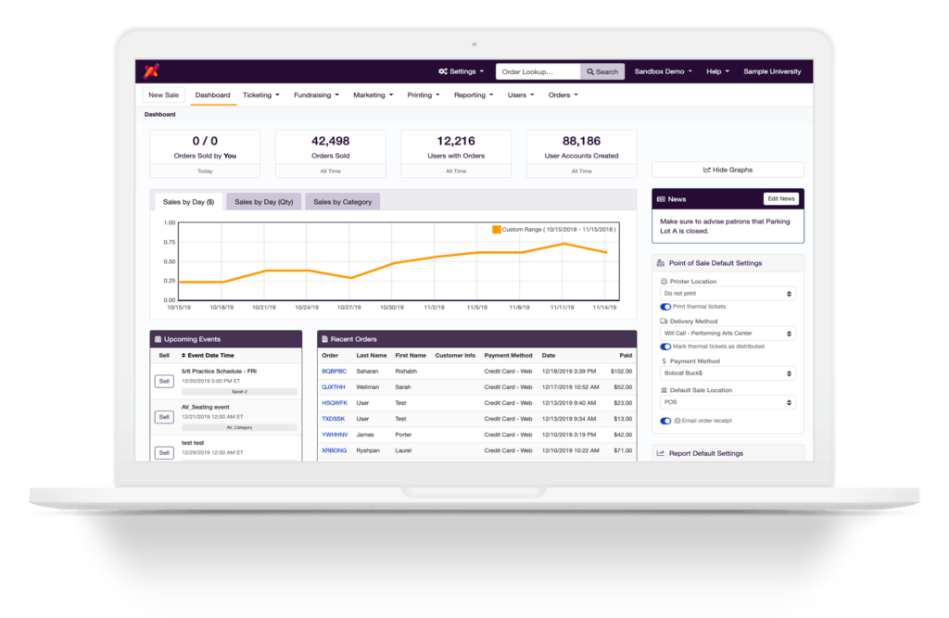 Born on a college campus
You learn early on that a square peg doesn't fit in a round hole. So why use a ticketing system that wasn't designed for colleges and universities? From student information system integration and campus payment processing, to a comprehensive permission management system, AudienceView Campus (formerly UniversityTickets) is your best choice.

Easy to learn
Be up and running after just a few hours of web-based training. We'll have your back too, with 24×7 technical support available at the tip of your fingers.

PCI compliant
Secure, reliable and PCI Compliant. our our system integrates with an array of payment gateways with support for EMV (Chip + PIN), card swipes and other point of sale style hardware.

Campus authentication
Validate members of your campus community in real-time, offering special ticket perks to your students and staff online, without relying on the honor system.

Campus integration
We'll integrate with your existing campus systems (like Banner, Blackboard, Jenzabar or PeopleSoft) to validate your students and staff in real-time. From CAS to Shibboleth to LDAP, we've done it all.

Payment gateway integrations
From Authorize.net to TouchNet, CASHNet to PayPal's Payflow Pro, AudienceView Campus will integrate with your campus payment gateway to settle funds immediately. No more waiting for settlements!

Web-based
AudienceView Campus requires only an internet connection and web-browser for use. There's no expensive server hardware, and no need for IT management, and our category level permission functionality allows for campus-wide operations with department-level privacy.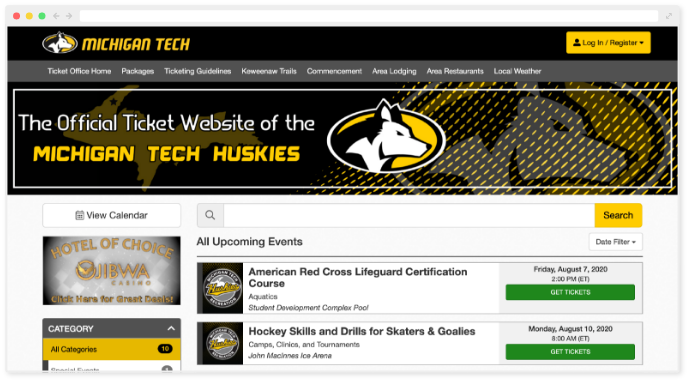 Athletics ticketing solutions
Ticket revenue only goes so far. An effective and customized fundraising program is critical to your success and longevity. With AudienceView Campus, fundraising efforts are automated and managed alongside ticketing, with a donor management platform that's fully integrated into our custom-branded, cloud hosted ticketing platform.
Learn more about athletics ticketing →
Performing arts ticketing solutions
Our ticketing and customer relationship management platform allows for unlimited reserved and general admissions seat configurations, e-tickets, mobile tickets, access control, donor management, subscriptions, real time marketing data and reporting – all on a custom branded portal that retains your own look and feel.
Learn more about performing arts ticketing →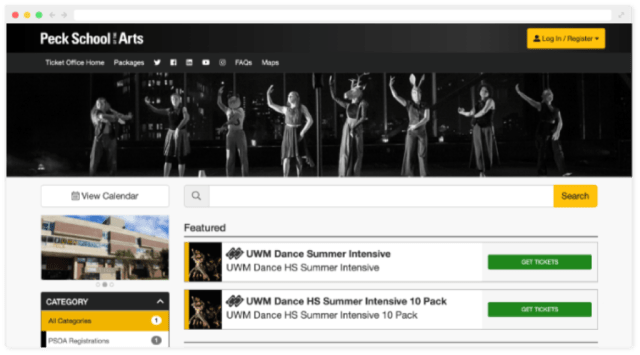 Student activity ticketing solutions
Ever wonder how to offer student tickets securely, online, without making them available to the general public? With AudienceView Campus, there's no more wondering. And the end of the business day shouldn't mean the end of ticket sales – your events will be available online, around the clock.
Learn more about student activity ticketing →
Commencement ticketing solutions
The tassel's worth the hassle. Commencement or graduation tickets aren't. With AudienceView Grad, tickets are available to students and their families at anytime, day or night, all from their home computer. We offer print-at-home and mobile tickets, campus authentication to validate a user's graduation eligibility in real-time, name pronunciation recording and more.
Learn more about graduation ticketing →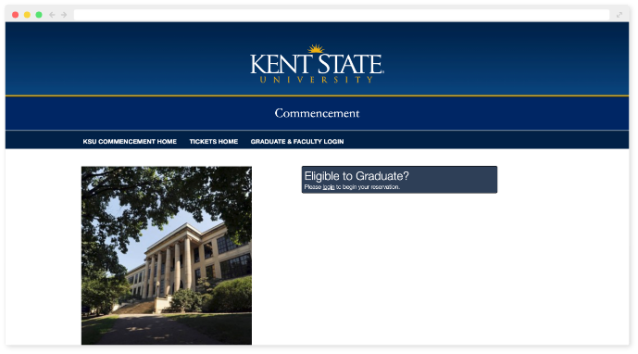 Be in good company
AudienceView has more than 1,000 higher education clients